App crashes after I launch it. Why?
Our entire team is also experiencing this issue as of yesterday. Upon opening the app, it crashes almost immediately after.
We are all on Macbook Pro's. I tried deleting the app and downloading the latest version from the website - no dice.
Currently aren't able to access any assets.
I have the same issue with the Icom Mac app. Just started crashing yesterday.
We are sorry, you've had a bad experience. Please, let us know these few things:
when exactly this issue has begun
whether the app crashes with any errors notifications? If there is a possibility to fill up the dedicated error reporting form, please do it. And in the description field please paste the link to this topic. If the app displays no errors, please send us at least a screenshot with system errors that might be reported by your OS.
The issue with the Icons app for Mac has nothing in common with the Lunacy app crashing. We are fixing the pichon app. It should be ready really soon.
I have the same issue on Mac OS Mojave. The app keep crashing every time I open it. I use iMac for work, I also test the app on my MacBook Pro 2015 and another MacBook Pro 2018 with Mojave and app keeps crashing.
I see same issues with other Mac OS apps and I'm not sure is this your fault or its related to Apple.
@Sergey is there any progress with fixing process?
Continuing the discussion from App crashes after launch:
I am having a similar issue "Icons8 Lunacy has stopped working" after opening any .sketch file on Windows 10.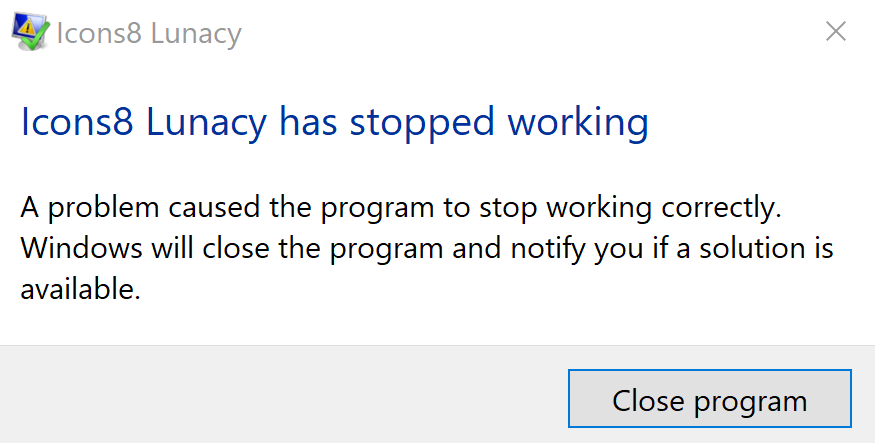 I have tried shutting down/restarting my pc and reinstalling Lunacy, all to no avail.
Any ideas/solutions would be appreciated!
-SK