I have been looking at Lunacy as an alternative to Figma. Not because there is anything wrong with Figma, but because I always like checking out new tech. There are some great features and others that are missing such as auto-layout (https://www.figma.com/blog/announcing-auto-layout/) which is great for buttons etc.
The first issue I've come across is SVG is applying a fill where there isn't one.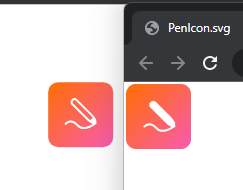 At first glance it seems to be applying a fill rather than a stoke, but this isn't the case. It isn't respecting "inside", "center" or "outside". This makes sense as that isn't a feature in SVG. The other thing I noticed is it's applying a 4px stroke when only a 2px stroke is applied.
The best solution maybe to outline any stroke that isn't "center" on export. What do you think?